20/7 Mobile Notary Services offers convenient, professional notary services for all your documentation needs. We take the stress out of verifying your legal documents by coming to you. We will meet you at your home, a library, coffee shop, or wherever is most convenient for you. We are your reliable mobile notary in Carmel, CA.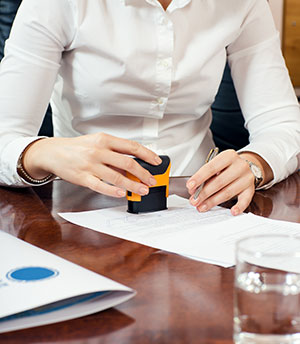 Our full line of notary public services includes:
Real estate documents: Are you buying a new home? Selling an old one? Are you refinancing your home mortgage? Our certified signing agent facilitates loan closings.
Full and limited powers of attorney documents: Many situations require a POA. With over 20 years of experience, we are familiar with all types of legal documents. You can count on us to help make your legal proceedings as smooth as possible with simple, convenient notary services.
Healthcare documents: The medical industry requires extensive documentation in many situations. If you need a notary public for your situation, we have you covered. And, no worries if you are unable to travel. We'll come to you!
Estate documents: Are you settling an inheritance? Are you setting up an estate? Our expertise makes 20/7 Mobile Notary Services the perfect partner to help you solidify your documentation.
Donna J. R. Conne has been a notary since 1993 and is a proud member of the National Notary Association. She has extensive experience with all types of legal documents. She has a background in real estate and as an operations manager, giving her a wide variety of experience with documentation. With vast knowledge of the industry and a commitment to excellence, she has made 20/7 Mobile Notary Services in Carmel, CA the leading source for reliable, ethical notary services.
Contact 20/7 Mobile Notary Services today to schedule an appointment at a location most convenient for you. Reach our expert notary public at 831-595-1066.